Nutra-Pack has the right solid dose (tablets, capsules, softgels) packaging systems for your nutraceutical application. We offer a variety of turnkey bottle packaging lines for tablets, capsules and softgels that can accommodate quantities large and small, handle various tamper-evident packaging and ensure regulatory compliance. Our extensive application experience in the nutraceutical industry plus our partnerships with strategic OEMs guarantees a solid dose bottle packaging system that handles product quickly, accurately and efficiently.
Examples of solid dose products we handle include:
Vitamins

Probiotics and Prebiotics

Dietary Supplements

Joint Health

And More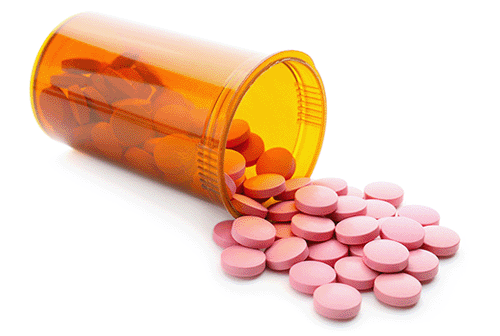 SOLID DOSE BOTTLE PACKAGING SYSTEM DESIGN
FROM START TO FINISH
We take care of it all—from system design to start-up—selecting the right machines and equipment for your production line. We offer all the necessary components of a solid dose bottle packaging system for tablets, capsules and softgels built according to your requirements.
Preconfigured complete solid dose packaging line solutions
Individual solid dose filling and packaging machines

Customized solid dose lines for your unique requirements
Nutra-Pack has the packaging equipment you need from start to finish for tablets, capsules and softgels. We offer unscramblers, tablet counters, cappers, sleevers, and everything else in-between, all the way downstream to the end of line equipment, such as packers and palletizers. Thanks to strategic partnerships with select OEMs, Nutra-Pack offers complete solid dose bottle packaging systems that work for you by fitting the right equipment to your production needs..
Low production speeds up to 40 bottles per minute
Typical production speeds ranging from 40 to 120 bottles per minute
High-speed production up to 160 bottles per minute
ADVANCED

TABLET COUNTING TECHNOLOGY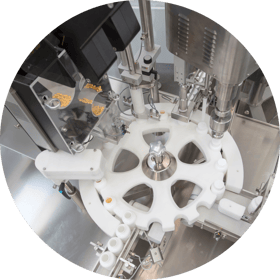 Every tablet, capsule and softgel counts when it comes to filling solid dose tablet containers. Nutra-Pack has partnered with Tecnomaco and others to offer a full range of tablet counters.
Several of our tablet counters use real-time image processing technology to count tablets in bulk to achieve 100 percent accuracy.
● Faster output with no need to separate or feed tablets before counting
● Minimal downtime for cleaning and changeover with tool-free contact parts
FULLY INTEGRATED

SOLID DOSE BOTTLE PACKAGING SYSTEMS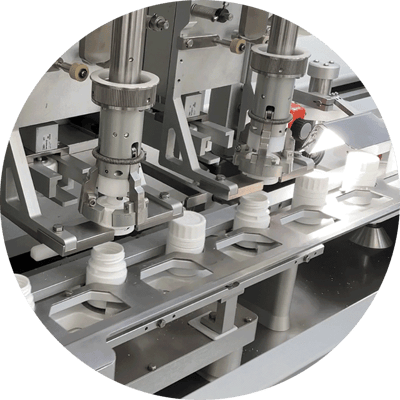 Nutra-Pack configures the right solution for your solid dose bottle packaging system and designs it to fit your space. From equipment selection to ensuring complete equipment integration both up and downstream production, Nutra-Pack handles it all.
With our unmatched application knowledge and experience in system design and integration, we ensure:
Seamless line control integration for centralized packaging line equipment operation

Integrated line factory acceptance testing conducted at Nutra-Pack's facility before final installation at your facility

Value-added conveyor system design and integration to maximize the packaging space available